Free shipping on orders above € 30 | always 100% vegan
Login
Log in if you have an account
Dont have an account? Register
NEWS – SUPPLEAM® Presents: SUPPLEAM X Body Masters Muscle Survival Kit
03 Apr 2020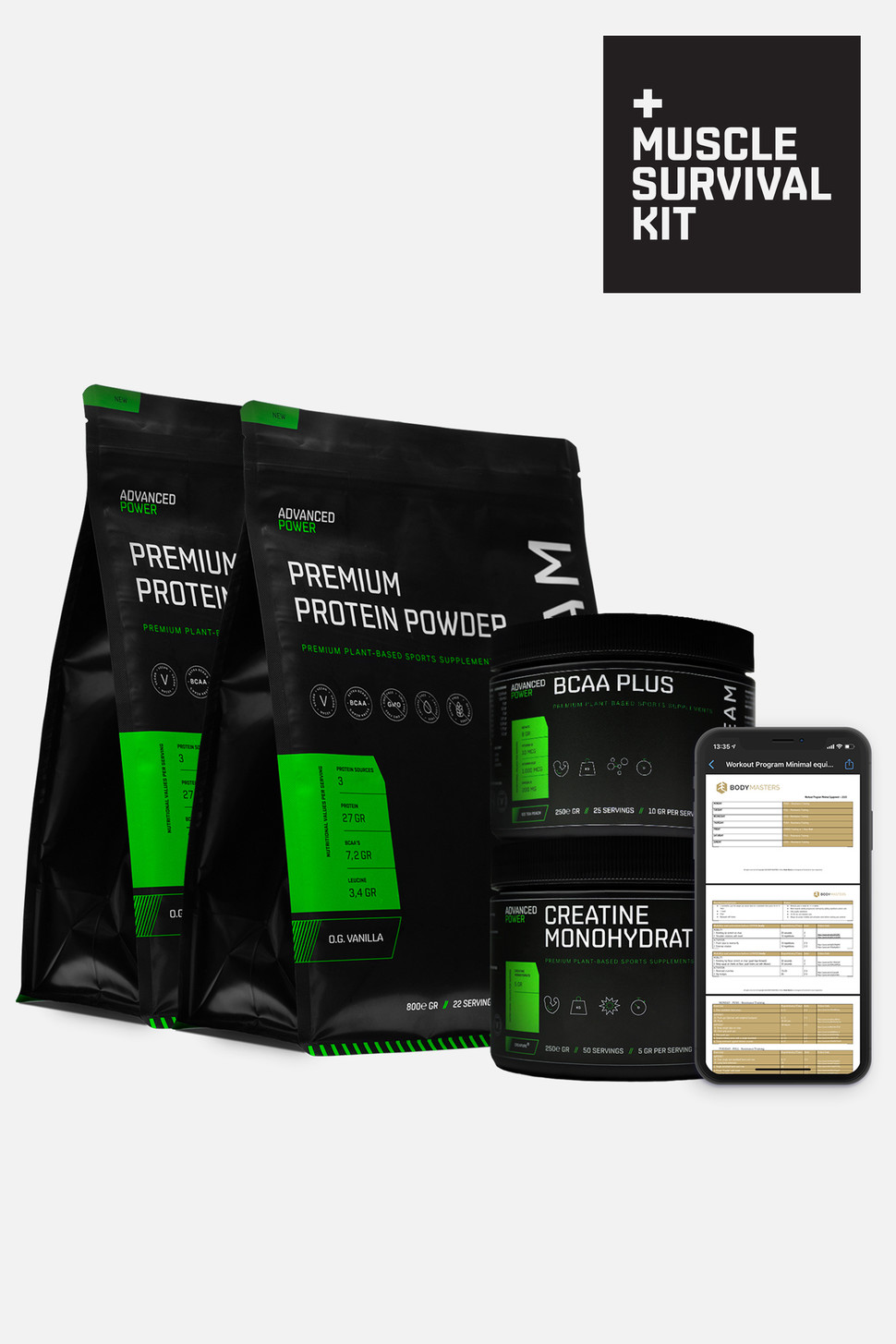 NEWS – SUPPLEAM® Presents: SUPPLEAM X Body Masters Muscle Survival Kit
SUPPLEAM®
SUPPLEAM X Body Masters Muscle Survival Kit
€110,00
Designed in collaboration with Body Masters, this Muscle Survival Kit supports maintaining and building your muscle mass. SUPPLEAM and Body Masters would like to give something back to the strength training community that stays at home. The whole month of April 2020 the Muscle Survival Kit will be offered for €110,00 (original price € 196.00).
Stay. Home.
This kit includes:
+ 2 bags of Premium Plant-Based Protein Powder in the flavors O.G. Vanilla and Strawberry Cheesecake. A scoop (35-40g) contains 27-30g of protein and 3,4-3,9g of leucine;
+ Our Creatine Monohydrate from Creapure®, 100% vegan;
+ Our specially formulated BCAA PLUS in the flavor Ice Tea Peach. In addition to 8 grams of BCAAs, it also contains vitamin B12, vitamin D3 and omega 3, 100% vegan;
+ Body Masters has designed a merciless 7 day split muscle training schedule for at home (push/pull/legs), good for 6 weeks.
Necessary materials
What you'll need are 2 dumbbells (use the weights you would need for a dumbbell chest press for 8-15 reps), a chair or bench, a backpack filled with books, a towel and yourself. The 6-week training schedule contains a lot of variety and challenge for all levels. For clarity and safety, Body Masters made instructional videos that can only be seen with a link from the program. You will receive your training schedule by email within 24 hours of purchase. In your training schedule you will find the links to the instructional videos.
The build continues, get ripped!
Body Masters
Body Masters consists passionate professionals who have been active in sports nutrition, fitness and prehabilitation for years. Their international certifications indicate the high quality: NASM, NSCA, FMS 1,2, ISAK, BSc in (sports) nutrition and dietetics.
Do you need a tailor-made training schedule with materials you have at home or a tailor-made nutrition plan to optimize muscle mass growth or fat loss? Send an e-mail to [email protected] and ask about the possibilities or for more information visit www.bodymasters.nl
Stay Healthy, Stay Save.