Pioneers in plant protein | Free shipping on orders above €30
Login
Log in if you have an account
Dont have an account? Register
VEGAN PROTEIN FILLED BROWNIES
02 Jan 2021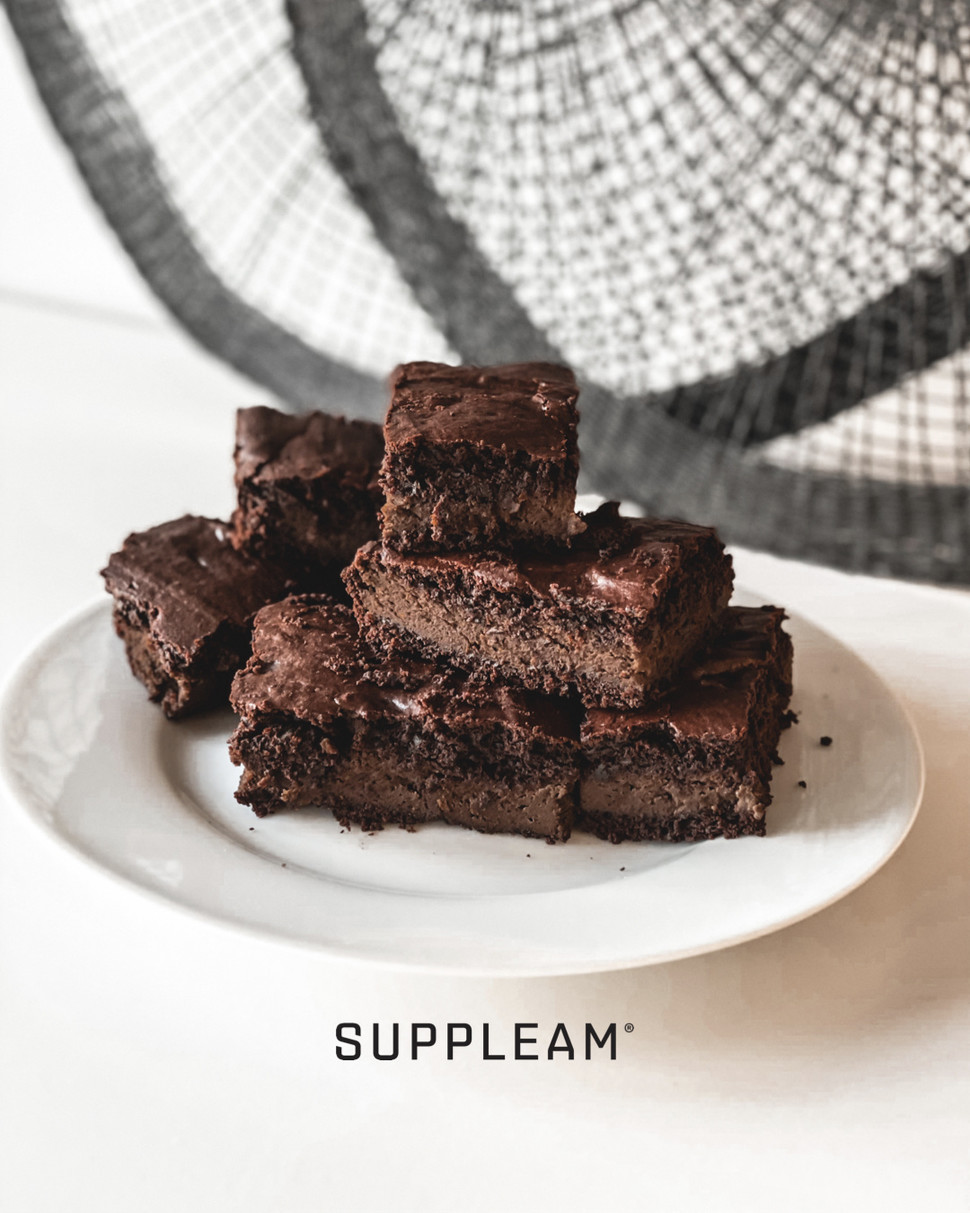 Protein filled brownies
Nutritional value per brownie piece (when cut into 10 pieces): 183 kcal and 12g protein
Nutritional value per entire brownie: 1833 kcal - 120g protein
INGREDIENTS
For the brownie layers (bottom and top layer)
- 100g self-raising flour
- 100g of sugar
- 75g cocoa
- 45ml of oil
- 175-200ml unsweetened almond milk
- Pinch of salt
- Teaspoon of vinegar
- 1/2 teaspoon of baking powder

For the protein filling
- 200ml of unsweetened soy yogurt
- 120g SUPPLEAM Premium Plant-Based Protein powder in tiramisu - 100-150ml unsweetened almond milk
- optional: few drops of stevia
INSTRUCTIONS
1.Pre-heat your over to 180 degrees Celsius; 
In a bowl add the: flour, sugar, oil, cocoa, unsweetened almond milk, pinch of salt and vinegar. Whisk.
In another bowl add: the unsweetened soy yoghurt, Premium Plant-Based Protein in Tiramisu (=Dark cacao/Arabica coffee) and mix with a spoon. Tip:use Premium Plant-Based protein in O.G. vanilla instead of the Tiramisu for a two-colored brownie!
Cover a brownie tin (or oven tray) with a layer of baking paper (parchment paper). Add 50% of the brownie mix and spread;
Add the protein layer and spread;
Add the remaining brownie mix and spread;
Add the Protein Filled Brownie to your pre-heated oven and bake 20-25 minutes on 180 degrees Celsius;
When the brownies are done, take them out of the oven and let cool completely before cutting into 10-12 pieces.
Enjoy!