Pioneers in plant protein | Free shipping on orders above €30
Login
Log in if you have an account
Dont have an account? Register
Vegan Protein Carrot Cake
28 Apr 2020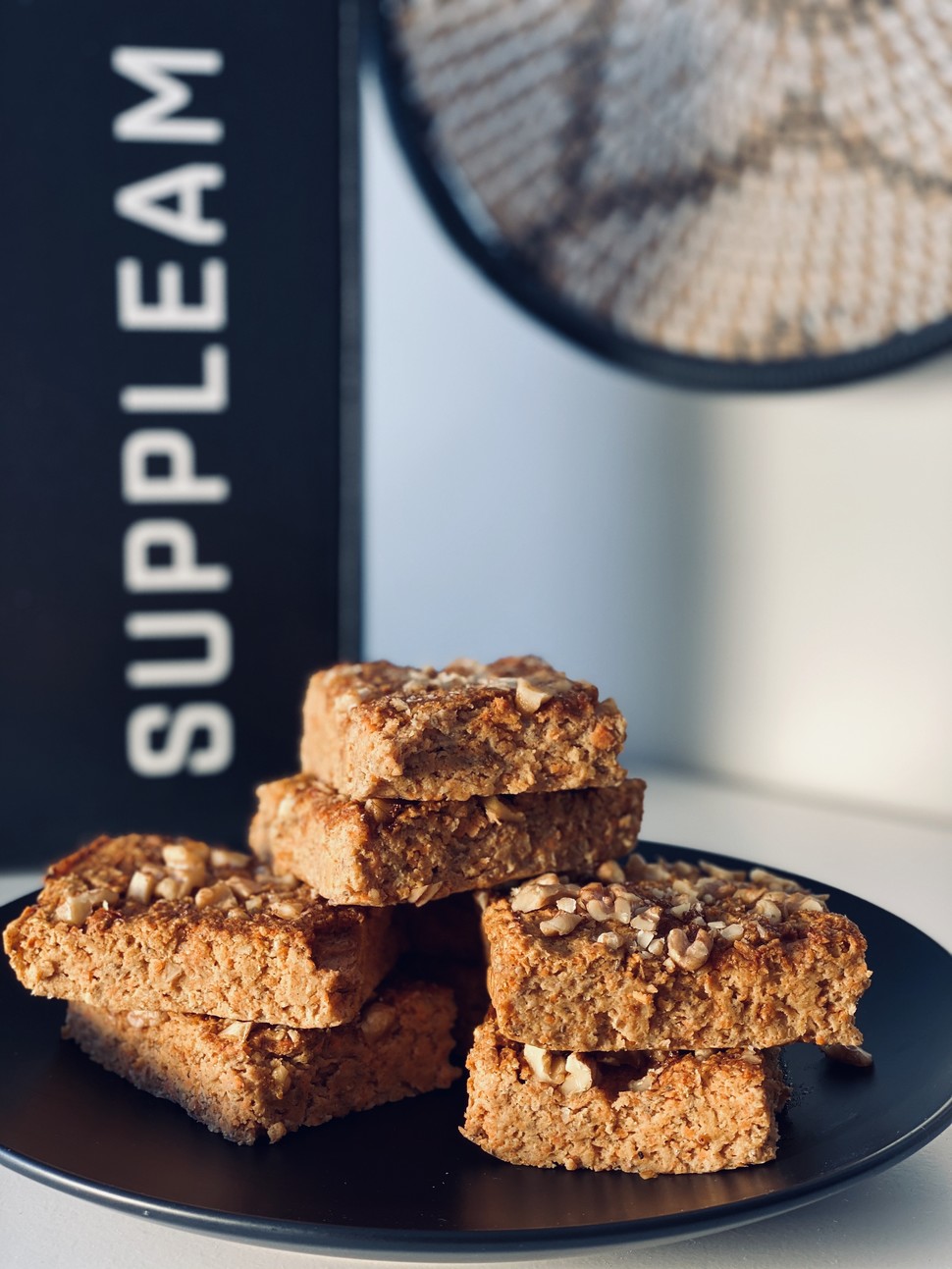 Vegan Protein Carrot Cake
We baked again! This vegan protein carrot cake contains per piece (8 pieces total) +/- 200 kcal and 16g protein.
Ingredients
100 grams of ground oatmeal (100g of oatmeal ground into flour in a food processor or blender);
2 "chia seed eggs" 15 grams of chia seed mixed with 5 tbsp (warm) water and let it soak briefly to form a jelly;
7.5 grams of baking powder;
90 grams of premium plant-based protein powder in the flavor Chai Latte (recommended!) Or O.G. Vanilla;
4 large carrots (250g), chopped in a food processor or grated with a kitchen grater;
30 grams of stevia powder or other sweet powder;
400 grams of plant-based vanilla yogurt. We used vanilla soy yogurt;
2 tablespoons of sunflower oil;
35 grams of finely chopped walnuts;
Optional: 8 grams of brown caster sugar or 1-2 finely chopped dates;
Optional: (date) syrup.

Necessities
Baking/parchment paper
Brownie tin
1 large bowl
1 small bowl
Food processor, blender or kitchen grater
Optional: Hand mixer

Preparation method
Preheat the oven to 180 degrees Celsius;
Make 2 chia seed eggs: Mix 15 g chia seed with 5 tablespoons of (warm) water and let it stand until it has become a jelly;
Grind 100g oatmeal in a food processor or blender to flour;
Chop 250g carrots in a food processor or use a kitchen grater;
In a large bowl, add: the oat flour, 90g protein powder, (if you use OG Vanilla, add 2 teaspoons cinnamon powder), the chia seed eggs, 7.5g baking powder, 400ml vegetable yogurt, 30g stevia powder and the 2 tablespoons sunflower oil and mix.
Mix the ground carrots with the batter. Use a hand mixer for this;
Place baking paper in a brownie tin and add the batter to it;
Sprinkle with the finely chopped walnuts and add brown caster sugar or finely chopped dates if necessary (this will caramelize the walnuts);
Place the batter in the oven at 180 degrees Celsius for 25-30 minutes and let it cool before cutting the carrot cake into 8 pieces;
Tip: Delicious with a drizzle (date) syrup and a cup of coffee or tea!
| | |
| --- | --- |
| | |