Optimum Nutrition – Vegan Protein Bars
– Multi-layer chocolate flavored vegan protein bar with sea salt, one layer of caramel flavor coated with dark chocolate.
– One bar provides 18 g of high-quality plant-based protein and 225 kcal
A plant-based Protein bar designed to be enjoyed at any time of the day, whether you're at the gym, in the car or sitting at your desk. ON Plant Protein Bar is the perfect balance between high protein content and great taste. It comes in the exciting flavor Dark Chocolate Sea Salt and offers a unique crunchy texture and an unparalleled taste experience to help you stay on track with your nutrition and fitness goals. Perfect for vegans and non-vegans alike, this chocolate protein bar provides 18 g of high-quality plant-based protein. Low in sugar (less than 0.5 g per bar) and free of palm oil. A sincerely good alternative to any chocolate or cookie snack when you're craving something sweet. Optimum Nutrition's sports snacks offer you a tasty & healthy – on-the-go – plant-based bar experience; at home, after a good gym workout and during a lunch break at work.
—————————————————————
DARK CHOCOLATE SEA SALT FLAVOR NUTRITIONAL INFORMATION
OPTIMUM NUTRITION – 100% vegan protein bar – Dark chocolate sea salt flavor – 60g per bar
Ingredients: Dark chocolate coating with sweetener (20%) (cocoa mass, sweetener: xylitol; cocoa butter, emulsifier: sunflower lecithin), protein blend (pea protein isolate, SOJA-protein isolate), sweeteners (maltitol, steviol glycosides from stevia), cacaoSOJA Crispies (14%) (SOJA-protein isolate, cocoa powder, starch), caramel-flavored coating (10%) (sweetener: maltitol; humectant: vegetable glycerol; cocoa butter, water, emulsifier: sunflower lecithin; thickener: acacia gum; low-fat cocoa powder, coarse sea salt (0.1%)), humectant (vegetable glycerol), PINDApaste, emulsifier (sunflower lecithin), skimmed cocoa powder, coconut oil, flavoring, green tea extract (camellia sinensis leaf).
See bold ingredients for allergens. May also contain nuts.
Plant-based protein bar coated in dairy-free chocolate with sweeteners.
Multi-layer vegan protein bar with chocolate flavor and sea salt, one layer with caramel flavor coated in dark chocolate with sweeteners.

Use as part of a varied and balanced diet and healthy lifestyle. Excessive consumption can have a laxative effect. Store in a cool and dry place. Out of reach of direct sunlight. Excessive consumption can have a laxative effect!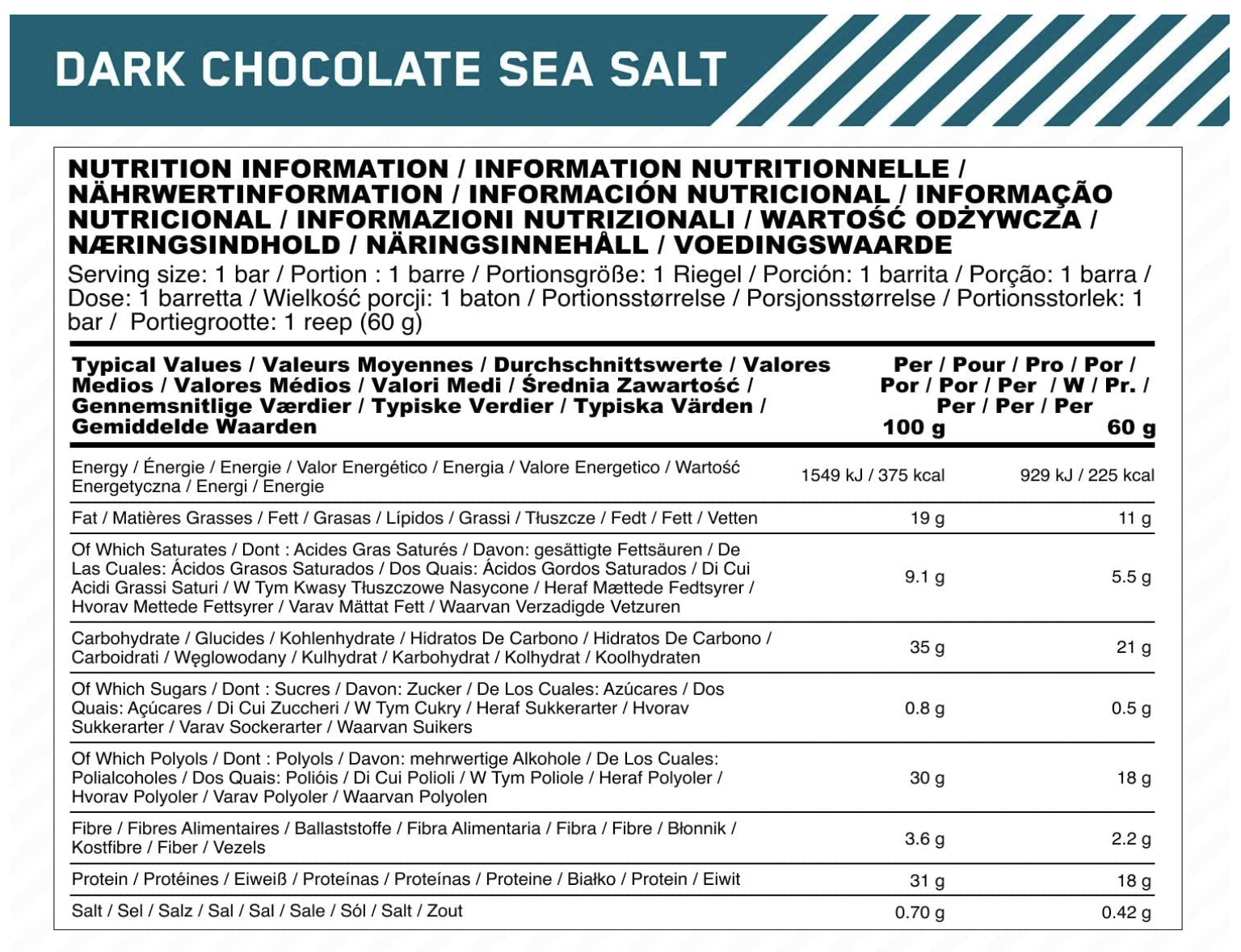 Have questions or comments about our vegan protein powder or our brand?
We are here to help!
You can chat with our experts via WhatsApp – just click the black/green button at the bottom right of your screen to start a conversation. You can also send us an email at customercare@suppleam.com, or contact us on Instagram, where our team is always available to answer any questions.
At SUPPLEAM®, we are committed to providing our customers with the highest level of service and support. So don't hesitate to get in touch – we're always here to help.
Sign up for our newsletter to be notified about our new products, and receive 15% off your next purchase!